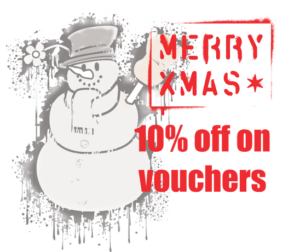 Only 60 minutes left until Christmas and you are still on the lookout for the perfect gift? Surprise your loved ones with an unforgettable experience at Make a Break. Buy our Christmas voucher online, receive it within minutes via email and redeem it after Dec 27th!
What's more, you get 10% discount! So, for instance, if you buy a voucher of a value of 110 Euros, you will only be charged 99 Euros. Simply select the appropriate "Christmas Voucher" on the voucher page to get the discount and lots of happy faces around the Christmas tree!
We are looking forward to receiving you and your loved ones, have a Merry Christmas and Happy Holidays!
You and your team locked in a room with no apparent escape. Yet everything in this room is a hint you have to solve. To escape the room, you'll first have to save Berlin. The key for your escape is team work.
---
Make a Break is the alternative escape room of berlin with a personality. Colorful and captivating, just like Berlin. We believe that "Escape Rooms 1.0″ are not up to date anymore and thats why we work with professional stage designers – which usually build the scenery of theatres and leisure parks – to create our rooms with a high degree of authenticity and detail. Our ultimate goal is to create an authentic experience – fitting the particular story perfectly. Our escape games contain some special elements like a reconstructed part of the berlin wall, virtual-reality googles and a 3D-printer. Have a look at our three current missions and choose the most suitable for you:
We asked Berlin street artists to decorate our venue in the bustling district of Friedrichshain. Only a 5-minute walk from S+U-Bahn station Frankfurter Allee or a 10-minute walk from the hip Simon-Dach-Straße, you'll find our rooms faster than the exit out of them.

---
You and your team only have
minutes to escape
---
Our three unique escape room missions will guide you and your team through historical and fantastic events set in Berlin. Break through the Berlin Wall to escape to the West, save Berlin from the zombie apocalypse or bust the biggest drug lord. This is you working against the clock… if you fail, the city is lost, and humanity is doomed.


---

Looking for a creative present for your loved ones? What about a game at Make a Break for your friends or family? Surprise the with an unforgettable experience in our escape room. Purchase our gift voucher online and you will receive it immediately by email. You can now send it to the presentee or print it and hand it over personally. It's really simple to redeem the gift voucher on our website.


---

For corporate clients, stag and hen parties family events or birthday parties we're offering team building events with up to 34 participants. Get to know your colleagues and friends in a new light. Our escape room missions have been completed already by thousands of satisfied team event participants.
Our online ratings speak for themselves. 99% recommendation!

---
To get a feel for our escape rooms, check out our teaser videos (no worries, they contain no spoilers):